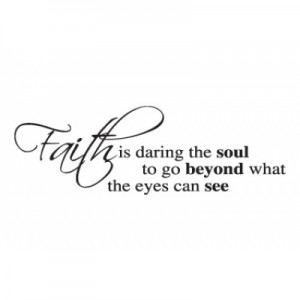 One day in church, a friend in the Bishopric was bearing his testimony.  He quoted this scripture:
Hebrews 11:1– Now faith is the substance of things hoped for, the evidence of things not seen.
I remember something just jumping right out at me.  Substance of things hoped for and evidence of things not seen.  Those phrases seem like oxymorons.  If there is substance, then why hope?  If there is evidence, then how can it not be seen?  So I pondered …. If there is SUBSTANCE to something we are hoping for or EVIDENCE of things we are not seeing, then something already exists and it is up to us to focus or look for that substance or evidence.  If there is substance or evidence of that thing, then there is knowledge—not faith.  So if we understand faith in this concept, we can look around us for evidence or substance of what we are having faith in.  Then we will have knowledge.  I hope this is making sense.  Here's an example.
I have a friend, Marnie, who lives in Georgia.  I've never been to Georgia.  So if I've never been and never seen it, how can I know that Georgia REALLY exists?  I can have faith and hope that it does.  But according to this verse, is there substance for my hope?  Is there evidence of what I am not seeing?  The answer is yes.  First, there is Marnie's witness.  She's been there.  She lives there.  I've seen pictures of Georgia.  I can read all about it.  So if I have substance and evidence, then I don't have to have "faith" in it anymore, I can have KNOWLEDGE.  And even though I have not seen, nor been there, I can still have knowledge of it and testify to others that Georgia is real and exists.
The same scenerio can happen with Christ.  I have faith that Christ lives but I haven't seen Him.  Using this verse, if I HOPE that He is there, then I can look for SUBSTANCE that supports this.  If I cannot see Him, I can look for EVIDENCE that tells me He is real and exists.  What substance and evidence do I have?   I have the scriptures. I also have those who have seen the Savior, including the prophet and apostles .  They have  written and testified of Him. I have the Holy Ghost who, as a WITNESS of Him (meaning He has seen Christ  and KNOWS Him), has testified to me that He is real.  If I were in the Holy Land, there would be tangible evidence of where He walked and lived.  I look around the world at the creations, at people, at the mountains, and a tree.  I have a witness every single day of a Creator. I can listen to music.  I can feel His spirit when I pray.  I can have tangible evidence and KNOW.
Now…if I can find this substance and this evidence, then is it not KNOWLEDGE that He exists?  And if I have knowledge, then it will become as sure and real and I will see Him, yet even if I don't right now, I can still know.
Now, what if you have to have faith in something else—like, say, paying off your house.  That is also a test of faith.  It is something that we have to believe in and hope for.  I can take this same principle and look around me for tangible evidence that it is possible and I can find substance that will tell me that I can.
What if you are dealing with health issues like cancer?  Can you look around and find evidence and substance for healing?  I believe you can.
Powerful stuff.  I hope that made sense and you can feel what I am saying.  When this hit me, I thought that perhaps the Lord is telling us that the answers are right in front of us and are tangible.  I think it is all about focus again.  Time and time again, I am understanding how important it is to focus and set your sights on what is good and holy and right, then all other things will be opened unto you.  Then sure knowledge comes.  Past hope.  Past faith.  Pure knowledge.
That is what I seek.  For then who can dispute?