Would You Feel Better About the Laws of Prosperity
If You Knew They Were Scripturally Based?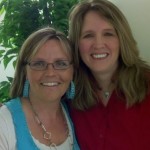 Ever wonder if the Bible has anything to say about The Law of Attraction and other natural laws?
Curious as to where Wallace Wattles (The Science of Getting Rich) and James Allen (As A Man Thinketh) sourced the material for their books?
Wondering if all of these self-help books and speakers are just yanking your chain or if the things they are teaching are really founded in the scriptures?
Does God really operate by these laws and principles?
Do the scriptures contain all the answers to our struggles, finances, and relationships?
Marnie Pehrson and Denise Webster Explore the Laws of Prosperity from a Scriptural Perspective
For the last 3 years, Denise Webster has repeatedly scoured the Bible cover to cover and found impressive backup for not only the law of attraction but also other natural laws that govern prosperity and abundant living.
Please join us as Marnie Pehrson, founder of SheLovesGod.com and Ideamarketers.com, interviews Denise about her insights and "mysteries of God" that she has unfolded in her studies.