I like doing Holiday dinners for my family just to make things a little more fun and breaking up the meal monotony.  For St. Patrick's Day, I always do some kind of a "green" dinner.  I have done the traditional corned beef and cabbage.  The kids don't like it too well, but I think it's pretty good if you cook it right.  Here are some "green" things I do to go along with it:
Green jello
Green Veggie Tray
Green kool-aid OR
Green sherbet with Sprite
Green Salad
Last year I did a "lite" dinner because we didn't want the corned beef and cabbage thing.  So here is what I did: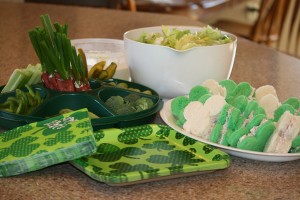 This included Zucchini Bisque Soup (it's YUMMY!), Green Salad, Green Veggie Tray,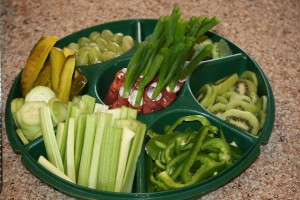 Shamrock Corned Beef Sandwiches (recipe to follow) and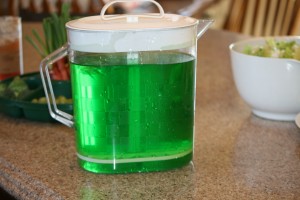 Green Koolaid.
It was a fun, lite meal that we could all enjoy!
If you are looking for cute breakfast ideas, I found these two: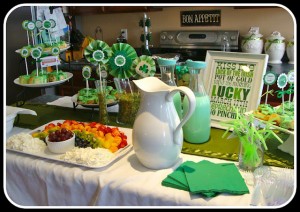 This one.  Click HERE for link.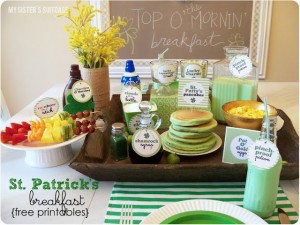 And THIS one.  Aren't they darling?  I may try one of these this year.  I really like the rainbow fruit idea!  Usually it is best for me to do a dinner, though, so I have a little more time to prepare it.
Here is the recipe for the cute Shamrock Corned Beef Sandwiches:
The first thing you need to do is to remember to order green bread from your grocery store bakery the day before you make them.  Then you can pick up your fresh green bread on St. Patty's Day.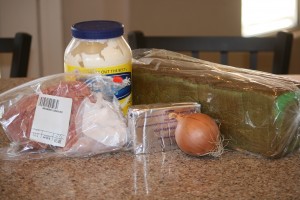 You'll also need some shaved corned beef from the deli, cream cheese, mayo, and an onion.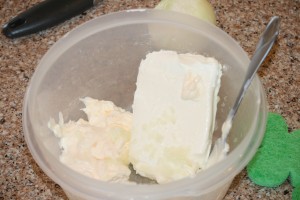 First, put your softened cream cheese and some mayo into a bowl with about 1-2 teaspoons of grated onion.  I can't remember if I put any other seasonings in here.  I think the corned beef is quite salty, so I didn't.  But if you taste it and it seems a little bland, then add a little bit of seasoned salt to it.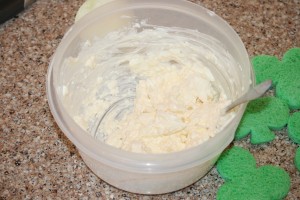 Stir it until it is blended.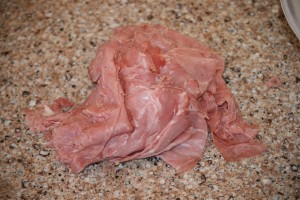 Next, take your shaved corned beef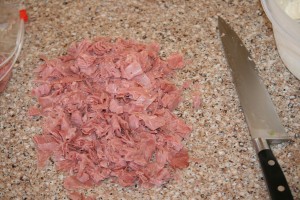 And chop it up.  Add it to the cream cheese mixture and your filling is ready.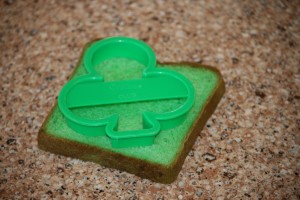 Then take your shamrock cookie cutter and cut them out of your green bread.  I also did white, too, for some color variety.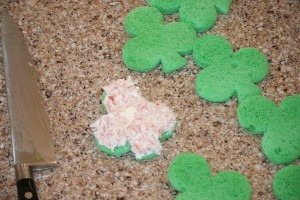 Spread your filling on your shamrock and top  with another slice of shamrock bread.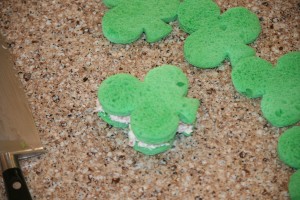 And there you have these cute little shamrock sandwiches!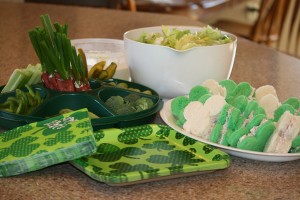 And your nice light St. Patty's Day Meal is complete!  Soup, Salad, Sandwich and some side veggies and fruit!
Have a great St. Patty's Day dinner!