I'd like to begin with my personal story.
My grandmother is 96 1/2 years old right now.  She is very tiny, weak, and frail due to severe osteoporosis.  When she was 95, we noticed a spot on her neck just under her ear lobe.  A neighbor who is a dermatologist stopped by to visit grandma and confirmed it was melanoma.  We weren't really sure what to do with her.  She was old and her health was not good.  Did we put her through a surgery or just let this be the course that takes her life?  My mom is her primary care taker.  Since mom and I had been using oils, and I had heard that frankincense was supposed to be good on cancer/tumors, I told mom to try it.  We didn't have much to lose.  We knew the cancer was deep and didn't know how far it was spread, but we thought we'd still give it a shot.
Mom would put frankincense oil on this spot under her earlobe everyday.  The sore was just smaller than a dime and was mostly just a scab on her neck.  For months this never really changed.  It never got bigger, but never went completely away.  In November, we headed down to Phoenix to my sister's for Thanksgiving.  The family that took care of grandma when we were gone did not put frankincense on her because they thought we were weird and don't really understand how they work.  With the hustle and bustle of the holidays, it was a few weeks before I got back down to see Grandma.  It was just a little before Christmas.  I was SHOCKED at what I saw.  This small scab had grown to a gaping hole about 2 inches in diameter.  Yes, it was  a hole that had some growth-looking gross thing growing in it.   I could hardly look at her because it was so yucky.  I said to my mom, "have you been putting frankincense on that thing?"  She said that she hadn't because when she left, no one put it on and when she came back it had expanded so big that she didn't know if it would make a difference now.  I was so frustrated and sad.  It was so obvious at what the frankincense had been doing for her.
Needless to say, we ended up having to take her into surgery in Jan/Feb to get rid of that thing.  Feelers had grown up the side of her face and down into her neck.  Her surgery went well and she recovered nicely for being so old and frail.  I did notice a few months ago that there were some spots back on her face.  I figured those little feelers had spread further than what they could get, but with some medicine, they are keeping it at bay.  I think mom has gone back to putting frankincense on her, too, because it really helps her overall.
A few months after this surgery, mom started noticing another little thing growing on grandma's face.  It started growing out of her face like a worm.  Weird.  It was really painful and mom couldn't even come near her to try and put frankincense on her.  So  I got a little spray top and put it on the bottle of frankincense and told her to just start spraying it, then she wouldn't have to touch her and put her in pain.  She did.  A short time later, the worm like thing was gone.  Wahoo!
So with that little experience, I decided I needed to do a little homework and find out exactly what the oils did and what the research was on it.
First let me give you a little background into cancer cells that I learned from Dr. Gary Booth who is a professor at BYU.  He has spent his entire career in search of natural ways to heal cancer.  He writes for the American Medical Journal and is often called on by congress to testify as an expert witness on medical issues.  He explained to me one day that every cell in our body has a defense mechanism called "apoptosis."  Apoptosis happens when a cell self destructs and sloughs off  when it becomes distorted or damaged so that it does not reproduce deformed cells.  In cancer, for some reason the cells do not create apoptosis or self destruct, but keep reproducing deformed cells.  They are fast growing, too.  So they way the doctors treat it is to kill ALL fast growing cells, which include your good cells like hair cells because they are fast growing, too.  This is the reason most cancer patients loose their hair.  The drugs kill off the good with the bad.
That being said, most of the cancer researchers out there are trying to find ways to keep the cells healthy enough to create apoptosis and self-destruct when they turn bad.
With that foundation, as I started to do some poking around on the government's website of pubmed.gov where the researchers and doctors post their research results, I found some very interesting things.  On THIS page, I found these titles:  (*Note:  Boswellia is the botanical name for Frankincense)
Boswellic acid exerts anti-tumor effects in colorectal cancer cells
Boswellia sacra essential oil induces tumor cell-specific apoptosis and suppresses tumor aggressiveness in cultured human breast cancer cells.
Boswellic acid suppresses growth and metastasis of human pancreatic tumors in an orthotopic nude mouse model through modulation of multiple targets.
Boswellia serrata acts on cerebral edema in patients irradiated for brain tumors: a prospective, randomized, placebo-controlled, double-blind pilot trial.
These were four of 20 on that page and 48 total articles on it.
Interestingly enough, today a friend posted an article on facebook about how oregano oil effectively destroys prostate cancer cells.
So I am intrigued by these oils and what the possibilities are.  The company I purchase oils from just came out with a new product that is a Cellular Complex Blend.      This product is specifically designed to help with apoptosis and cell regeneration, as well as helping with internal inflammation.   This is a homerun product to take internally to help with cancer and people dealing with all kinds of autoimmune diseases who have a low-grade inflammation in their body and need to build their cells back up.
I wish we could get grandma to take it.  She has a hard time swallowing pills and has her whole life.  That is why we only put frankincense on externally.  I'm wondering now what would have happened if we could have talked her into taking some of the frankincense internally. I suggested to mom that we get her some of this cellular complex blend to try.  She said, "do you want her to live forever?!"  We had a good laugh about that– only because it is really hard on my mom to take care of her and watch her deteriorate and just lay there all day.   Although she did come out a few days ago while it was still warm.  I snapped this picture of her because I was SO happy to see her outside and by the fruitstand again– the place she has always been and always will be to me.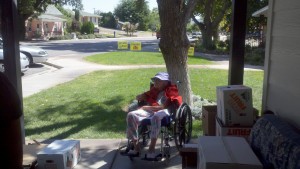 *An update to this article.  In December 2012, we found out that my then 17 year old son had melanoma.  I listened to a call about this Cellular Complex Blend within minutes of hearing the news about my son. I was grateful to know there was something out there that would help.  The short version of the story is that the melanoma had not spread on my son.  We had been using frankincense topically in that area.  Now he continues to take the Life Long Vitality Pack (vitamins) and the Cellular Complex Blend everyday.  I also have him use the Anti-Aging oil blend on his face, neck and over scars because many of the oils in it show upon pubmed.gov as being good for skin cancer.
As I have continued to study, I've found research by Dr. Nicole Stevens on essential oils and cancer; listened to Patti Champine and her study about this Cellular Complex Blend and cancer; listened to stories by Dr. David Hill and his son with leukemia and Laurea Stirling and her battle with breast cancer and what oils they've used; and  have also read a couple of other stories of those who have used the oils in their treatment of cancer.
What I have concluded is that there is a lot of scientific evidence and even a few actual cases where the oils are helping.  The greatest blessing out of this for me is the gift of hope and help.  To know there is something natural that has been shown to work gives so many of us families hope and help, when it sometimes seems there is none.
I, for one, take the Cellular Complex Blend everyday along with my other  supplements and oils as prevention and for overall good health.
Here is some information from the Modern Essentials book about frankincense.   (page 59, fourth edition.)
Frankincense properties:  anticatarrhal, anti cancer, antidepressant, anti-infectious, anti-inflammatory, antiseptic, antitumor, expectorant, immune stimulant, and sedative.
Common Primary Uses:
alsheimer's disease, aneurysm, arthritis, asthma, balance, brain (again), brain injury, breathing, cancer, coma, concussion, confusion, coughs, depression, fibroids, genital wars, hepatitis, immune system support, improve vision, infected wounds, inflammation, liver cirrhosis, Lou Gehrig's disease, memory, mental fatigue, miscarriage (after), moles, MRSA, multiple scleorsis, nasal polyp, parkinson's disease, plague, postpartum depression, scarring (prevention), tumor (lipoma), lucers, uterus tissue regeneration, virus of nerves, warts, wrinkles.
Is it any wonder why they recommend taking a drop of this under your tongue everyday?  Just a warning, it tastes like a tree/wood.  I like the smell better than the taste. ;o)
If you'd like to know more about essential oils or attend one of my classes, email or message me on facebook.